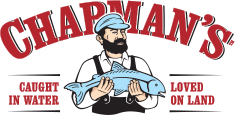 Chapman's goes online!!!
Welcome!
We've officially gone live and we're a part of the online community!
Just some trivia to get you going - You probably didn't know this, but Chapman's Seafood Company is South Africa's largest importer and trader of Snoek!
This is what started the business all those decades ago. As a growing company supplying mostly fish & chips shops around the Cape, a foundation was laid that catapulted us into a nationwide success story- The Chapman's Brand of Frozen Seafood!
The Brand has become a household name in SA and other parts of Africa, so we've decided to launch our website for you, our supporters! So come on in and get to know us and the Chapman's Brand a little better!
So what's to learn on here anyway?
Well we kinda figured you might ask that! Nothing is more annoying than logging onto a site and all you can find is, well, you know, blah blah blah!
That's not the case here! Countless hours have gone into designing this site to make it as useful and user-friendly as possible to you, our consumers.
So let's go! You can start with:
- If you're into your history lessons, then by all means check out our ABOUT page to learn all about where we started and so much more!
- An extensive list of our products is available on our PRODUCTS page. On here you can also learn interesting facts such as species names and where certain fish are caught! This will make for impressive conversation next time you're showing off your new Seafood expertise to friends around the dinner table! Check their faces when you say "hey, did you know in New Zealand, Snoek is called Baracoutta?"
- We may be old, but we're certainly hip and happening! You will find up-to-date content on all our social media pages! All our pages are linked to our site, so go ahead, click click click! All the tabs to our Twitter, Facebook, Instagram, YouTube, and Google , are visible on any page. Share and comment! We want to hear from you!
- Amazing and unique recipes and videos you can find on our RECIPES page . We are going to cover this page extensively in our next blog! Please check it out!
-Chapman's Seafood Company prides itself in giving back! Keep a close eye on our CAMPAIGN page for exciting promotions in the coming year! If you're following us on all out Social Media pages, you'll be the first to hear about them!
So what do you do now?
Well now that you've browsed around and gotten comfortable, we would love to hear your feedback about the site on our CONTACT page. This site is about YOU so let us know what you think!
Remember to follow us on Twitter, Facebook, Instagram, and Google+! Subscribe to our YouTube channel and Share all our exciting recipes!
Stay tuned for our next blog about our exciting recipes. You don't want to miss out!
Regards.
Your Seafood Specialists
Copyright © 2016 Chapmans. All Rights Reserved.
Website design:: Monzamedia