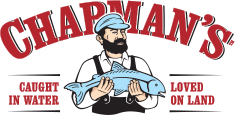 HAPPY BRAAI DAY EVERYONE !
As many of you know Heritage Day is fast approaching (more commonly known as the public holiday that graces us with the honor of sleeping in). It's actually a day where we as South Africans are all encourged to celebrate our cultural traditions. For some this means relaxing at home and taking it easy before we have to drag ourselves back to work Tuesday morning, but for most of us this means gathering with family (both adored and the ones you have to mentally prepare for) and friends.
Braai Day has taken South Africa by storm, but then again we never needed an excuse to put our traditional wors and chops on the coals!!! Of course we here at Chapman's are more excited about another tradition which is equally as popular - BRAAI SNOEK !! There are 100's if not 1000's of recipes out there but today we've chosen to share one of our personal favorites with you ...
SNOEK AND SUMMER PEACHES WITH HERB REMOULADE
Ingrediants:
- 1 egg
- 12.5ml dijon mustard
- 2.5ml (1/2 teaspoon) finely chopped garlic
- 200ml canola oil
- 30ml (2 tbsp) white vinegar
- 30g chopped spring onion
- 25ml fresh, chopped, flat leafed parsley
- 45ml chopped dill gherkins
- 1 chopped hard boiled egg
- 70g double thick Greek yoghurt
- Tabasco, salt and freshly ground pepper for taste
- 1 medium butterflied snoek
- 6 halved desert peaches
- melted butter for brushing
- 50ml maple syrup
Method:
1) Light a charcoal braai and allow coals to burn
2) Remoulade:
- Place egg, mustard and garlic in a bowel; add oil in three batches whisking continuously
- Stir in vinegar, you should have a thick mayonaise at this point
- Stir in spring onion, parsley, dill gherkins, hard bioled and yoghurt
- Season geneously with salt, pepper and tabasco
3) Fish:
- Brush fish and peaches with melted butter
- Grill fish over hot coals, for about 12min on each side (depending on the thickness of fish)
4) Peaches:
- Grill until just soft, 7-8min on each side
- Glaze with maple syrup and allow to cook for a further 2-3min over the coals to caramalise and char slightly
5) Top grilled fish with the peaches, serve with the herb remoulade and enjoy !!
Some nifty hints to make your braai's snoek a success:
- There is a constant risk that the fish will stick to the grid, so gently shake whichever side of the grid is on top at any stage of the braai to loosen it from the meat
- Serve the snoek skin side down, flesh side up
- Snoek is best served with a side of soetpatats, which when translated into English is sweet sweet-potatoes
With that being said we hope you have an amazing Heritage/Braai Day and enjoy the greatly anticipated break from cooking the next few days (special shoutout to the leftovers that spare us from the tedious task of cooking straight after work). Be sure to keep an eye out on our facebook page for details of an exciting upcoming Braai day giveaway!
Until next time
Your seafood specialists.
Copyright © 2016 Chapmans. All Rights Reserved.
Website design:: Monzamedia